How to get misplaced, lost, or damaged BECE/WASSCE Certificate-Latest Updates
How to get misplaced, lost, or damaged BECE/WASSCE results-Latest Updates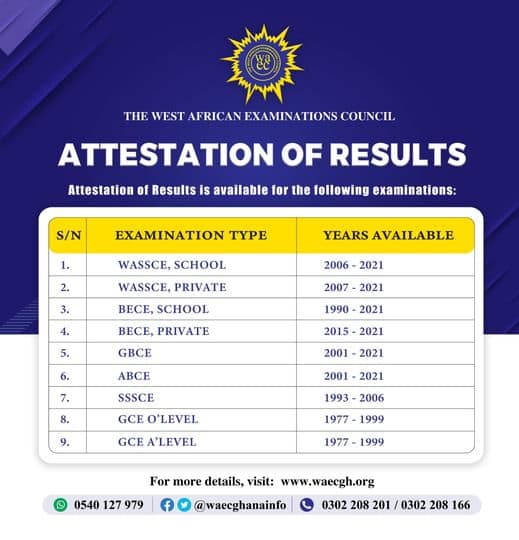 The West African Examinations Council has updated us on how to get a misplaced, lost, or damaged BECE/WASSCE certificate. This is exciting news because many people have always complained about misplaced, lost, or damaged BECE/WASSCE results.
The West African Examinations Council awards a certificate to any candidate who obtains at least a pass in any of the subjects offered in its examinations. Certificates are issued within three months after the release of final results.
Conditions for the Issue of Certificates

The examining body has set these conditions on the issuance of certificates.
The certificate issued is and remains, the property of the West African Examinations Council at all times, and it is issued on the following conditions:
Any alteration to the certificate renders it invalid.
The certificate must be surrendered to The West African Examinations Council on request.
The certificate should be kept in a safe place.
The West African Examinations Council will not issue any other copy of the original certificate.
(a) Basic Education Certificate ExaminationThe certificates are forwarded to the District Directors of Education for onward despatch to schools. Candidates may then collect their certificates from their heads of school.
(b) West African Senior School Certificate Examination for School Candidates.The certificates are despatched to Heads of School for collection by their candidates.
(c) West African Senior School Certificate Examination for Private Candidates.

Certificates for Private Institutions which are allowed to register candidates are collected from theWAEC Office in the region of the school by the school authorities.All other private candidates are expected to complete application forms to collect certificates and submit them to the WAEC Offices in the regions where they wrote the examination. They are expected to attach their recent passport-size photographs endorsed by witnesses in any of the following categories:

A senior officer of the security services not below the rank of Major/Superintendent or its equivalence.A Senior Public Servant (Principal executive officer and above).A Qualified and Registered Medical Practitioner (herbalists are not accepted)A Solicitor or Barrister (Commissioner of oaths not accepted)An Assistant Director of a Public Secondary School or Training College.
Attestation of results
The West African Examinations Council does not issue duplicate certificates.

The Council, however, now issues an Attestation of Results for certificates that have been misplaced or damaged. The attestation of the result is as valid as the certificate. Users who wish could confirm the details on the document with the Council.

Attestation of Results are issued to individual candidates or persons for their possession. The Attestation must be collected personally by applicants from the offices of the Council in Accra or the regions. For the issuance of the Attestation, applicants will be required to provide the following details:
Your Name (in full as used in the examination)
The Name, Month and Year of Examination
Your Index Number
Passport photograph.
A valid identification document.
GH¢400.00 Subject to review by the council.
Attestation of results details
| | | |
| --- | --- | --- |
| # | EXAMINATION TYPE | YEARS AVAILABLE |
| 1. | WASSCE, SCHOOL | 2006-2021 |
| 2. | WASSCE, PRIVATE | 2007-2021 |
| 3. | BECE, SCHOOL | 1990-2021 |
| 4. | BECE, PRIVATE | 2015-2021 |
| 5. | GBCE | 2001-2021 |
| 6. | ABCE | 2001-2021 |
| 7. | SSSCE | 1993-2006 |
| 8. | GCE O'LEVEL | 1977-199 |
| 9. | GCE A'LEVEL | 1977-1999 |
Do you have an article you would want to be posted on Our Site? Send to admin@sidakonewsroom.com