National Service Personnel Allowance increased by Government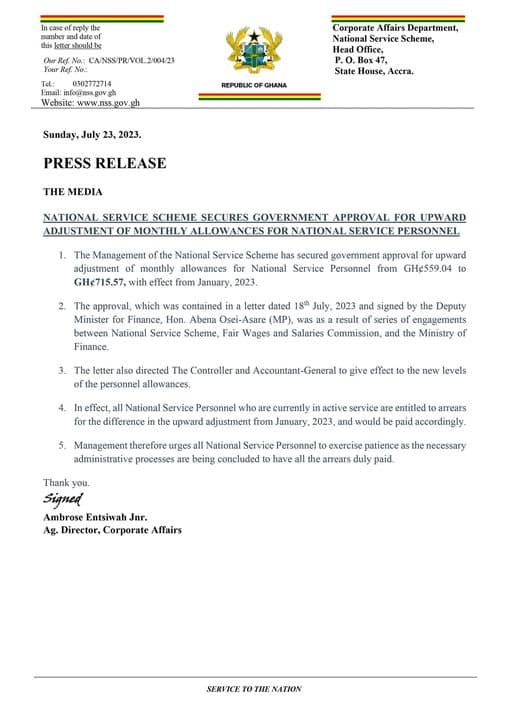 The National Service Scheme (NSS) has given an update on the increased personnel allowance. The government's approval for the increase in the National Service Personnel allowance has moved from Ghc 559.04 to Ghc 715.57, with effect from January 2023. This approval was signed by the deputy minister for finance, Hon. Abena Osei-Asare (MP) as a result of a series of engagements between the National Service Scheme, Fair Wages and Salaries Commission, and the Ministry of Finance.
The letter also directed the Controller and Accountant-General to give effect to the new levels of the personnel allowance.
In effect of the approval, all National Service Personnel who are currently in active service are entitled to arrears for the difference in the upward adjustment from January 2023 and would be paid accordingly. Management had urged National Personnel to be patient as all necessary administrative steps are being concluded to have all arrears paid duly.
Read also: NSS releases postings for the 2022/2023 service year-Check here
This move is a positive reinforcement for National Service Personnel who are in service and those yet to climb the yearly compulsory service. The complaint on inadequate finances of personnel would be reduced with time. It is hoped that the adjustment would thrive the financial resources of the NSPs causing them to work assiduously as the scheme's motto suggest "service to the nation".
The management of NSS duly expresses its regard to the government for this enormous adjustment. With this great move, all NSPs can be relieved and enthusiastic about their service duties.
Signed,
Ambrose Entsiwah Jnr.
Acting Director, Corporate Affairs.
Do you have an article you would want to be posted on Our Site? Send to admin@sidakonewsroom.com