Regional ICT Training For One Student One Tablet – GES & KA Technologies
Regional ICT Training For One Student One Tablet – GES & KA Technologies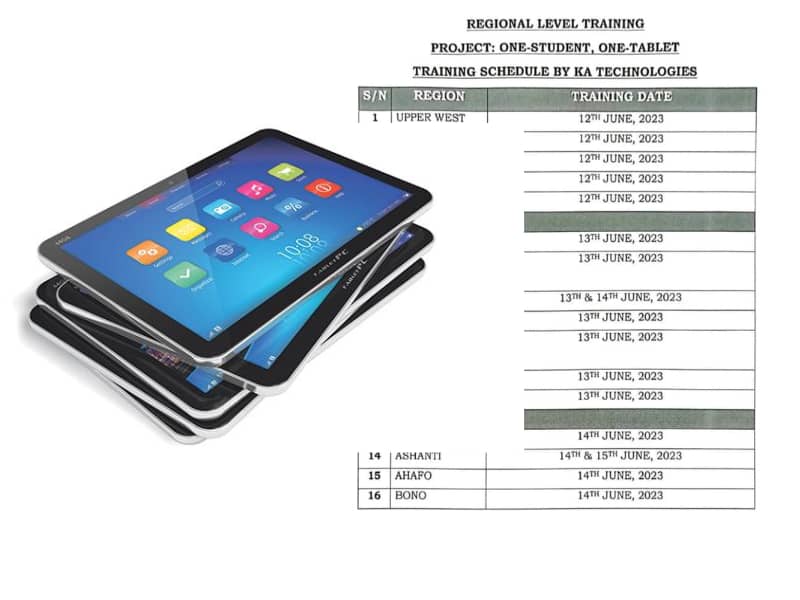 The Ghana Education Service has announced the day on which the training programs for one student -one tablet will begin leading up to the delivery of tablets to all students in Ghanaian high schools.
When it is implemented for SHS students, pupils will receive tablets pre-loaded with textbooks. This is a component of the government's initiative to digitally transform Ghana's educational system.
He claims that the necessary textbooks and instructional materials will already be loaded onto the tablets that will be provided to second-cycle school students.
At the University of Ghana, Legon's New Year School this year, he announced this.
"This year, we are on course to provide all Senior High School students in Ghana with tablets that are loaded with textbooks on them for their studies. That's a very game-changing development. We will have past questions preloaded on these tablets that will be distributed," he stated.
Read also: Online Admission Portal For Senior High Schools In Ghana
Only students at public SHSs across the nation will be the focus of the One SHS Student, One Tablet program.
Ghana Education Service provided these statements:
Regional ICT Training For One Student One Tablet – GES & KA Technologies
As part of the preparations towards the implementation of the One-Student, One-
Tablet Project, KA Technologies (KAT) wishes to commence its Regional-Level Training for all District and School IT Officers after the successful completion of the Trainer of
Trainers (ToT) Programme.
The proposed date to start the training is 12TH JUNE, 2023. The Regional-Level Training Programme is intended to achieve the following outcomes:
Read: How to get misplaced, lost, or damaged BECE/WASSCE Certificate-Latest Updates
Training Objectives
Train School ICT Officers on tablet distribution process.
Train Teachers on Smart Classroom set up and device configuration. (i.e. Smart
Box)
Train Teachers and Students on KATON Knowledge Hub.
Coordination of device support and maintenance issues within each district.
The training would be held in all 16 regional capitals across the country.
Training arrangements have been concluded with all Regional ICT Coordinators who
participated in the Trainer of Trainers (ToT) programme hosted by KA Technologies in
Ассга.
The training schedule has been attached for your consideration. All training logistics
would be borne by KA Technologies.
Accordingly, Management is by this letter requesting Regional Directors of Education
to officially inform Metro, Municipal, and District Directors of Education within their jurisdiction.
Training Schedules By KA Technologies