Step-by-step guides on WAEC Attestation of Results
Step-by-step guides on WAEC Attestation of Results
The Council, however, now issues an Attestation of Results for certificates that have been misplaced or damaged. The attestation of the result is as valid as the certificate. Users who wish could confirm the details on the document with the Council.
Attestation of Results are issued to individual candidates or persons for their possession. The Attestation must be collected personally by applicants from the offices of the Council in Accra or the regions.
DETAILS FOR ATTESTATION OF RESULTS
Your Name (in full as used in the examination)
The Name, Month, and Year of Examination
Your Index Number
Passport photograph.
A valid identification document.
GH¢ 400.00 Subject to review by the council.
ATTESTATION OF RESULT REQUEST FORM
The attestation request form above will be filled with the correct details to acquire a misplaced or lost certificate. The following details will be provided o the request form.
Surname – provide the family name or last name.
Other names -First names and middle names should be here ( NB: same as what was used to sit for the examination)
Email address – Provide a correct email address. The council will send or contact you via that.
Phone number – Enter a number that is reachable anytime.
Correct address – Provide your location address.
Read also: How to get misplaced, lost, or damaged BECE/WASSCE Certificate-Latest Updates
EXAMINATION DETAILS
In this section, details of the type of examination written will be provided. This will help to identify the authenticity of the request.
Index number – This space accepts the index number of the candidate.
Collection centre – Specify the location for collection. Your certificate will be sent to that location for pickup.
Examination & year – Provide the examination type ( Eg. BECE, WASSCE, ABCE, etc) and the exact year of completion.
Upload a passport photograph and identification document. The identification document should be one of the following (National Identification Card, Passport, Voters ID, Driver's Licence). The max size of the identification document should be 50kb
Finally, click on submit and proceed to payment.
After submitting, the next page of the request form will display.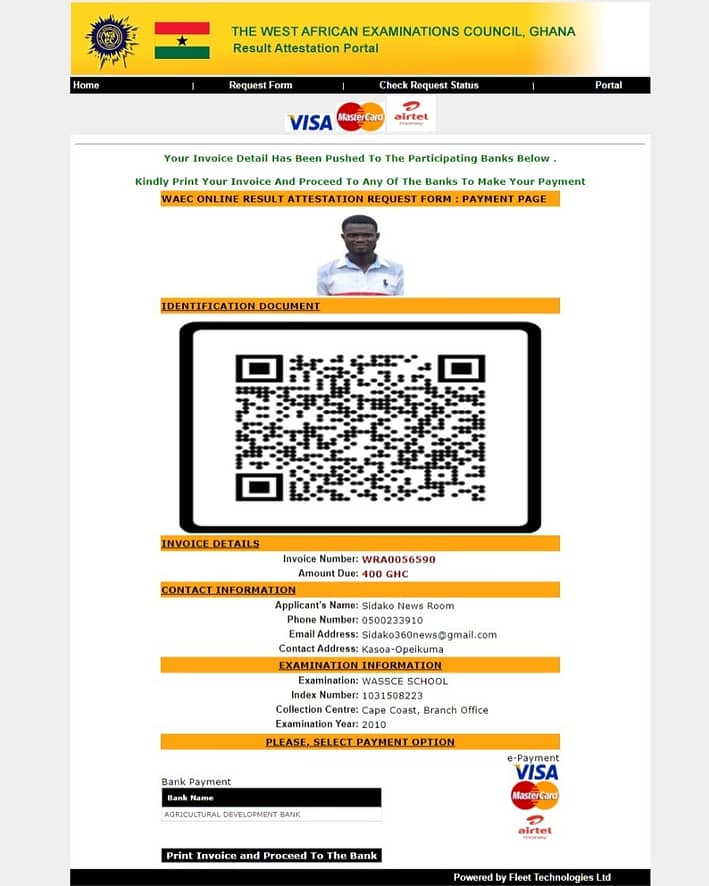 Next, get the invoice number and proceed to make payment at Agricultural Development Bank (ADB). Payment of Ghc 400.00 must be made to the bank.
CHECKING THE STATUS OF RESULTS ATTESTATION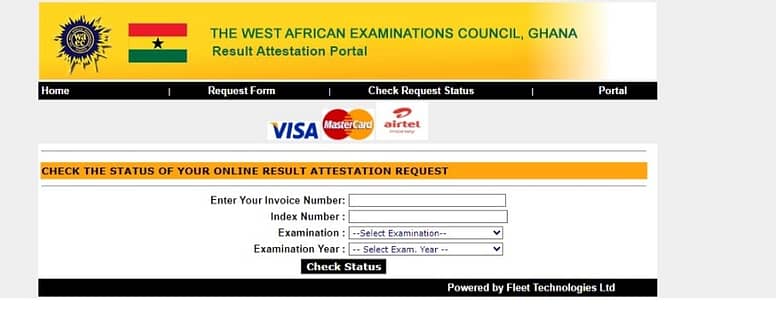 To check the status of your attestation online, the following details should be provided.
Enter Your Invoice Number
Enter Index Number
Pick the type of examination
Select examination year.
Use these guidelines to get your certificate. This is a golden opportunity for people who have misplaced or damaged their certificates.
Do you have an article you would want to be posted on Our Site? Send to admin@sidakonewsroom.com