T-TEL is recruiting for the position of Finance Director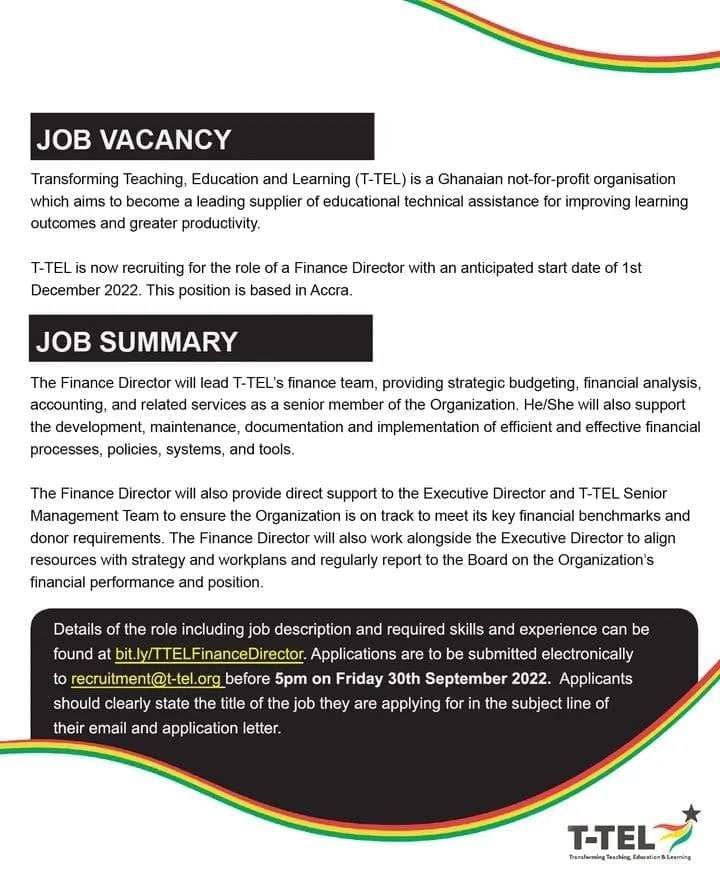 The Finance Director provides direct support to the Executive Director and T-TEL Senior Management Team to ensure the Organization is on track to meet its key financial benchmarks and donor requirements. The Finance Director will also work alongside the Executive Director to align resources with strategy and workplans and regularly report to the Board on the Organization's financial performance and
position
JOB SUMMARY
The Finance Director leads T-TEL's finance team, providing strategic budgeting, financial analysis, accounting, and related services as a senior member of the Organization. He/She will also support the development, maintenance, documentation and implementation of efficient and effective financial processes, policies, systems, and tools.
READ ALSO: New Job Vacancies At Fair Trade Ghana Network
ESSENTIAL JOB RESPONSIBILITIES
LEADERSHIP OF THE FINANCE FUNCTION
• Promote a culture of accountability, high performance, meaningful collaboration, and continuous improvement that values learning, a commitment to quality, and a commitment to the Organization's mission.
• Demonstrate leadership in collaboration across the Organization.
• Lead in the implementation and management of the Organization's internal control policies and procedures.
• Ensure all accounting procedures are compliant with IPSAS, the Organization's financial management manual and any statutory mandated guidelines.
• Monitor and respond to current changes in financial management practices and reporting requirements.
• Support the Executive Director and Senior Management Team (SMT) in fostering a team culture that promotes T-TEL's organizational culture for all staff working in the finance team.
FINANCIAL MANAGEMENT
• Lead in the preparation of the organization's annual core budget.
• Collaborate with the Operations Director to support the technical team in the preparation and coordination of programme budgets.
• Develop budget monitoring mechanism for both programme and core budgets.
• Collaborate with the Operations Director in the implementation of programme workplans to ensure they align with the budget and provide feedback to Technical Teams.
• Lead in the periodic review and forecast of programme and core budget.
• Monitor programme expenditure and communicate to SMT, any potential issues with regards to invoicing, forecasting, disbursement, accounting, or any other financial concerns.
• Organize monthly programme-finance budget meetings to follow up on spending against component budget and workplans and make revisions as may be required.
• Provide real time financial data for all teams.
• Adapt and respond to funding requirements and guidance including managing donor funds
FINANCIAL REPORTING
• Prepare the monthly analysis and subsequent reporting of operational performance, trends and forecasts and make appropriate recommendations.
• Lead the Preparation of the regular financial reports and semiannual/annual financial statements for the organization.
• Ensure accuracy, completeness and reliability of financial data when preparing the financial statements or any financial reporting in accordance with the selected General Accepted Accounting Principles including those derived from IPSAS.
• Leads the preparation of quarterly/periodic donor financial reports.
• Develops reporting standards, emphasizing key financial and non-financial metrics to inform decision making
READ ALSO: Monitoring, Evaluation and Learning Manager At FairTrade Ghana Network
FINANCIAL CONTROL AND COMPLIANCE
• Lead the establishment and operationalization of sound financial management, accounting and administrative systems based on principles of accuracy, timeliness, and transparency.
• Monitor the implementation of financial policies and procedures of the organization to ensure adherence to internal controls.
• Coordinate the roll out of new financial policies and/or revision to existing policies by providing Subject Matter Expertise to SMT.
• Work with technical and finance teams to ensure compliance with funder regulations in the implementation of all project/programme activities.
• Conduct expenditure verification and spot checks, periodically, on supporting documentation submitted by technical teams and downstream partners for the implementation of programme activities.
• Lead the operational management of project/programme audits, year-end audit process and ensure managing auditor relationships, as well as maintaining clean audits.
• Lead the implementation of recommendations to audit findings from both internal and external audits
CAPACITY DEVELOPMENT
• Support training and development opportunities for employees within the finance team.
• Provide coaching and feedback to employees within the finance team in accordance with the performance management process and career development framework.
• Provide mentorship and technical training to employees in the finance team in a manner that promotes professional development while maintaining focus on the Organization's priorities and best practice.
• Organize and facilitate trainings on financial management, financial reporting and internal control for non-finance staff and downstream partners.
• Provide technical assistance as may be required to downstream partners on areas around funds management
GENERAL
• Perform any other duties as may be assigned by the Executive Director or the Board.
READ ON: Regional Cocoa Programme Manager At Fair Trade Ghana Network
CANDIDATE SPECIFICATION
Professional qualification in ACCA/ICA/CIMA plus MBA in Finance or any related field with a minimum of 15 years' experience working in audit, finance, or grants management.
• Experience on ''donor funded'' projects, international non-profit organizations, as well as multinational environments would be desirable.
• Experience with financial analysis, financial reporting, cash flow analysis, budget development and forecasting.
• Strong knowledge in IFRS/IPSAS.
• Strong knowledge in external audit and internal controls.
• Strong knowledge and proficiency in the use of QuickBooks financial software, databases, spreadsheets, including MS Office.
• Excellent interpersonal and communication skills (oral and written communication) including effective English language communication skills.
• Excellent leadership, managerial and planning skills including the ability to develop complex multifaceted workplans and seeing them through to completion.
• Strong moral compass, personal ethics and integrity.
• Proven experience as a strong manager of people with the ability to develop and motive teams.
• Ability to manage relationships with multiple stakeholders.
• Ability to work in a culturally diverse environment (inclusive, collaborative and respective across diversity of people, disciplines and levels of employees.
• Well-organized, task- and time- oriented, and with close attention to details.
• Independent, ability to use own initiative, ability to be flexible
LOCATION: Accra
MODE OF APPLICATION
Applications are to be submitted electronically to recruitment@t-tel.org before 5pm on Friday 30th September 2022. Applicants should clearly state the title of the job they are applying for in the subject line of their email and application letter. Click HERE to read more about the job
Do you have Article you would want to be posted on Our Site? Send to admin@sidakonewsroom.com
CLICK HERE TO JOIN WHATSAPP GROUP
CLICK HERE TO JOIN FACEBOOK PAGE
CLICK HERE TO JOIN TWITTER PAGE
CLICK HERE TO JOIN INSTAGRAM PAGE